Roofing Services
Your roof is your home's first line of defense against the elements. Your roof's exposure to heat, cold, and sunlight make it an excellent candidate for improving your home's overall energy efficiency. And since your roof is also your home's most important line of defense when it comes to protecting you and your family from the elements, it's easy to see why homeowners are drawn to the quality workmanship and high expectations that Elite Home Exteriors is known for.
Elite Home Exteriors offers a wide variety of shingle styles and colors in all available warranties to best compliment and protect your home. We use only the highest quality materials from the most trusted name in the industry, GAF®.
Architectural shingles offer wonderful benefits for the modern home. Because they are constructed of two bonded layers of shingle material rather than just one, they provide extra durability, better fire and wind resistance, and longer service life. The benefits of architectural shingles also extend to the cosmetic: they create a beautiful multi-dimensional effect that can be used to emulate the look of high-end roofing materials. With an architectural shingle, you can have all the sophistication of an upscale slate or shake with the performance and affordable cost of asphalt.
GAF ® Timberline™ Architectual Shingles & Roof System

One of the most popular architectural shingles installed by Elite Home Exteriors is the GAF ® Timberline™ series. Timberline ™ shingles add a delightful natural wood shake look with extra dimension to give your roof new depth and beauty. The Timberline color palette, inspired by America's landscape, features subtle color blends designed to complement any exterior color scheme.
Timberline ™ shingles not only deliver all the advantages of durability and great appearance found in an architectural shingle, they also come with GAF's ® Limited Lifetime Warranty.
Call Elite Home Exteriors today!
203-240-5764
Licensed, Bonded, and Insured
Learn more about GAF's® Roofing System below.

A roof system is so much more than shingles. Find out how all the components work together to keep moisture out,
your energy costs down and your house looking terrific.

Provides an extra layer of protection between your roofing shingles and roof deck.

Allows moisture to escape from your attic while providing an exceptionally strong layer of protection against rain. Prevents rain from infiltrating under your shingles and damaging your roof or the inside of your home.
Starter strip shingles include a high-quality, properly positioned adhesive that will tightly lock your shingles in place to help prevent shingle blow-off.

Enhance the beauty of your home while guarding against leaks at the hips and ridges. The finishing touch that helps defend against leaks at the hips and ridges.

Helps prevent leaks caused by wind-driven rain and ice dams

Provides exceptional protection against leaks caused by roof settling and extreme weather.
-- Helps reduce attic moisture and heat

-- Helps remove excess heat and moisture from your attic that can raise your energy bills, cause premature peeling of interior paint and wallpaper, and even affect your health.
Effective attic ventilation systems reduce damaging heat and moisture in your attic, promote energy efficiency by helping to reduce the load on your air conditioner in the summer, and also reduce the risk of ice dam formation on your roof.
Complete GAF Roofing System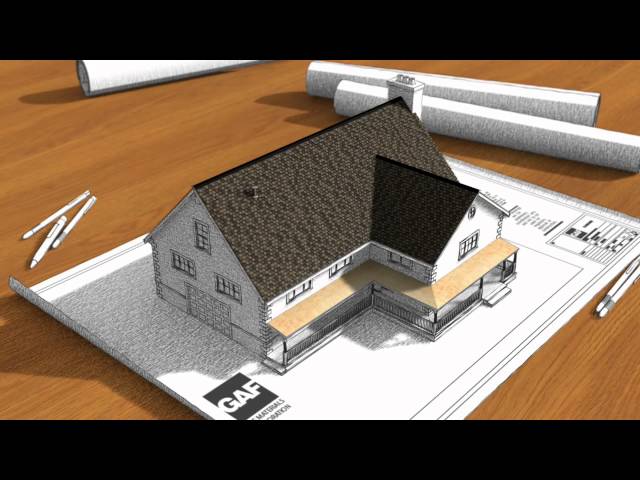 /